Open Grid Forum
Semantic Grid Research Group
The goal of the Semantic Grid Research Group (SEM-RG) is to realise the added value of emerging Web technologies and approaches, in particular Semantic Web and Web 2.0, for Grid users and developers. We provide a forum to track Web community activities and advise the Grid community on the application of these technologies and approaches in Grid applications and infrastructure, to identify case studies, share good practice and set an agenda for future work.
This is the home page of the Open Grid Forum Semantic Grid Research Group (SEM-RG), which is one of the Technology Innovators groups in the Open Grid Forum. To find out more about the broader Semantic Grid community, please visit the Semantic Grid Community Portal.
You can also find the Semantic Grid Research Group on the OGF web site and on Grid Forge.
The Research Group uses the Semantic Grid community mailing list sem-grd@gridforum.org - see below for details.
OGF 21
OGF21 will be held in Seattle, October 15-19, 2007. We are running the second Web 2.0 and Grids workshop.
OGF 20
OGF20 in Manchester UK has a workshop on Evolutions of GRIDs Towards Service Oriented Knowledge Utilities (SOKUs), being held on Tuesday May 8. It's organised by Domenico Laforenza, Thierry Priol, Pierre Guisset and Ramin Yahyapour. See OGF20 schedule.
There's also a Semantic Grid talk in the eArts and eHumanities - eScience technologies and methodologies in Arts and Humanities research workshop on Monday May 7. This workshop is organised by Andreas Aschenbrenner, Stephen Beck, Tobias Blanke, Allison Clark, Stuart Dunn, Peter Gietz, and Mark Hedges. See OGF20 schedule.
We are not planning any further Semantic Grid events at OGF 20 in Manchester because regrettably it clashes with WWW2007 in Banff!
OGF 19
OGF19 was held at Chapel Hill, North Carolina, USA January 29 - February 2, 2007. We organised the Web 2.0 and the Grid Workshop on Monday January 29.
Gridworld/GGF18
We are supporting the 1st WS-Agreement Workshop at GridWorld/GGF18, 11-14 September in Washington DC. Meeting materials are available here on GridForge.
Other relevant events on the schedule include:
DMTF 2006 Alliance Partners Technical Summit
There was an OGF session throughout Thursday July 20, 2006, at this event in portland, Oregon, including four Semantic Grid presentations.
GGF17
No Semantic Grid sessions are planned at GGF17, because two of the chairs are closely involved with running the 15th International World Wide Web Conference which follows 23-26th May in Edinburgh, Scotland. We've been present one way or another at every GGF from GGF5, and we'll be back in GGF18!
GGF16
GGF16 was held February 13-16 2006 in Athens, Greece.
The Semantic Grid 101 session was held on Tuesday 14th February at 10:30pm in Macedonia A (level M). The slides are available. The session was be run by Carole Goble and Sean Bechhofer and included:
Introduction (Carole)
What is the Semantic Web? (Sean)

Annotation, integration, inference

Semantic Web Technologies? (Sean)
Applying Semantic Web and technologies to the Grid (Carole)

Motivation
Semantics in and on the Grid
Semantic Web Services
Overview of exemplars including myGrid, OntoGrid, Semantic Datagrid, SOKU and others

Intro to Workshop and SEM-RG (Dave)
The 3rd GGF Semantic Grid Workshop will be held on Wednesday February 15th in the afternoon, in three sessions starting at 1:30pm. The sessions are:
1:30pm Session 1 - Frameworks and Approaches
3:30pm Session 2 - Building Bridges
5:30pm Session 3 - Technologies and Standards
All the papers are online, and presentations will go online as they become available. We are also videoing both the 101 and the workshop sessions to make them available in the future.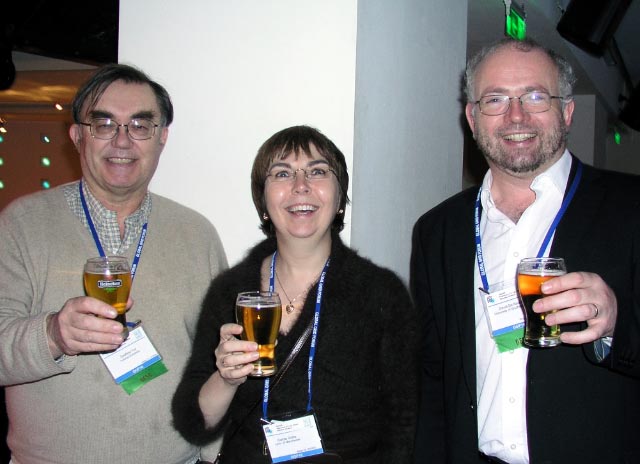 The SEM-RG Chairs: Geoffrey Fox, Carole Goble and David De Roure. (Photo Ian Foster.)
GGF15
GGF15/GridWorld is being held October 3-6 2005 in Boston. We are not holding a formal Semantic Grid Research Group business session but Jonathan Dale is planning an ad hoc meeting to follow up the agents discussions at recent GGFs, with a view to a possible working group. Contact Jonathan Dale at FLA.
GGF14
GGF14 was held in Chicago June 27-30, 2005. In the Communities track there was a session on Semantic Grids and the Agents Community on Wednesday June 29, 9:00 - 9:45, organised by the Semantic Grid Research Group. The objectives of this session were:
To discuss grid problems which may be addressed by technologies developed in the agent based computing community
Specifically to consider the role of agents in the context of the large number of grid services anticipated in the future
To suggest next steps in engagement between these communities
Slides are available here.
Semantic Grid also featured in the panel The WUN Cultural Computing Grid on Tuesday, June 28, 2:30 - 4:00.
GGF13
GGF13 was held from 14-16 March 2005 in Seoul, Korea. The Semantic Grid Session was held Wednesday, March 16 from 3:30pm-5pm. The agenda was as follows:
Introduction to Semantic Grid - DDeR (30mins)

an introduction to the Semantic Grid and an overview of the Semantic Grid Research Group Activities, including news of new projects and forthcoming events

Grid Resource Description ontology - DDeR for John Brooke (5mins)

an update on the activity towards a Grid Resource description ontology

Semantic Web Services - Kashif Iqbal (20mins)

Introduction to Semantic Web Services, and discussion about "Semantic Grid Services"

Aspects of agent-based computing and Grid computing

Agents and the Grid - Hiroki Suguri (15mins)
WS-Agreement update - Wolfgang Ziegler (10mins)

Summary of discussion to inform charter review (5mins)
The session involved some introductory material as we anticipate a new audience, followed by some presentations and discussion around Semantic Web Services and aspects of Agents in preparation for forthcoming charter revisions. Slides are available here.
GGF12 Semantic Grid Tutorial
We held a half-day Semantic Grid tutorial at GGF12, Brussels, VUB on Tuesday, September 21. Time: 1:30pm - 5pm Location: QB. The instructors were Carole Goble (U of Manchester), David De Roure (U of Southampton) and Marlon Pierce (Indiana University). The slides are here.
GGF11 Semantic Grid Applications Workshop
Our second Semantic Grid workshop was held on Thursday June 10 at GGF11, at the Hilton Hawaiian Village Beach Resort & Spa, Honolulu, June 6-10 2004. The proceedings and slides for this event are available.
The workshop theme was Semantic Grid Applications, interpreted broadly as all use of Semantic Web technologies in Grid computing projects. The event was held in conjunction with the GGF Applications and Testbeds Working Group (APPS-RG).
GGF11 Semantic Grid Session
There was a Semantic Grid Research Group session at GGF11 on Wednesday June 9, in which we reviewed the activities of the group against the charter. See the agenda and slides (5Mb) for more information. The minutes are available in HTML or Word.
GGF9 Semantic Grid Workshop
We held a Semantic Grid Workshop at GGF9 in Chicago, October 5, 2003. The proceedings are available as a Word document (76 pages, 1.2Mb), also available on the Semantic Grid project on GridForge.
GGF7 Semantic Grid Sessions
We held two sessions at GGF7 in Tokyo. Here are the agenda, minutes and presentations. There was also a BOF for the proposed Grid Scheduling Ontology Working Group.
One of our goals is to establish a 'primer' to help people apply Semantic Web technologies to grid applications - if you can contribute to this we would like to hear from you. We are collecting together some useful links, with annotations, to go in the primer web pages. We are planning a Semantic Grid Tutorial at a future GGF.
GGF6 Semantic Grid BOF
The BOF was held on Wednesday October 16 2002. See the GGF6 schedule. All attendees have subsequently been invited to join the mailing list.
GGF5 Semantic Grid BOF
The BOF was held on Tuesday July 23 2002. See the GGF5 BOF Program.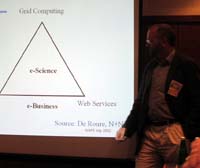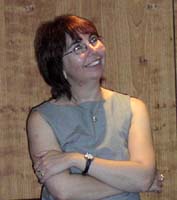 Charter
The goal of the Semantic Grid Research Group (SEM-RG) is to realise the added value of Semantic Web technologies for Grid users and developers. We provide a forum to track Semantic Web community activities and advise the Grid community on the application of Semantic Web technologies in Grid applications and infrastructure, to identify case studies and share good practice. Here are our Charter and Milestones.
The chairs of the Research Group are David De Roure (email), Carole Goble (email) and Geoffrey Fox (email). The Secretary is Marlon Pierce (email).
The Semantic Grid mailing list (sem-grd@gridforum.org) is a community list hosted by GGF and carries discussion about all aspects of the Semantic Grid including the Semantic Grid Research Group. To subscribe to the mailing list, send a subscribe sem-grd message to Majordomo@gridforum.org The subscription request will be forwarded for approval. (To unsubscribe, send an unsubscribe sem-grd message.) See also the mail archive. For more information see the Semantic Grid Community Page.
---
Web page maintained by David De Roure, dder@ecs.soton.ac.uk
Last updated Sunday, 14-Oct-2007 15:31:25 BST Please note the GGF Intellectual Property notices.